People Working Cooperatively Repair Affair Event T shirts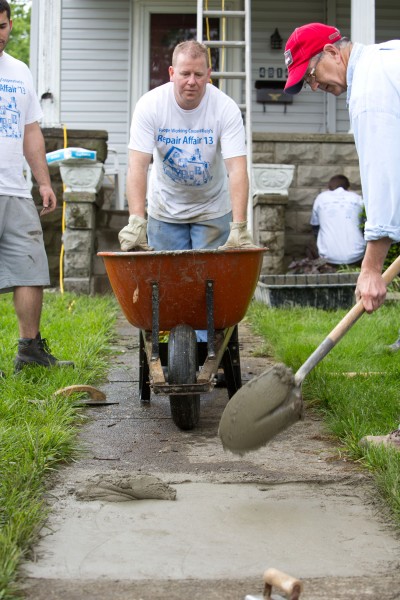 People Working Cooperatively chose Signco Stylecraft to provide custom printed T-shirts for their Repair Affair 2013. Kim Sullivan of PWC is a repeat customer of Signco Stylecraft. She chose to place her custom screen printed T-shirt order with Signco Stylecraft because of their outstanding customer service, fast and friendly turnaround and the "simple, easy and no hassle" approach she enjoys with them.
People Working Cooperatively is a non-profit agency that provides critical home repair for low income elderly and disabled homeowners. Because they are a non-profit, they work on a tight budget. Signco Stylecraft was able to provide a quality custom printed T-shirt at an affordable price. PWC has an annual event called "Repair Affair". Custom T-shirts were printed for each participant.
Signco/Stylecraft is a premier provider of screen printing and embroidery services to corporations and institutions across the US. Our wide range of high-end products and services include: screen printing and embroidery services for corporate casual, spirit wear, hospitality and event management, general corporate identity and marketing, custom printing solutions, corporate signage, special event signage, banners, posters, show booths, OEM components, prototypes, and things our competitors say can't be done.
Signco offers many options of screen printing. Customized t-shirts are a great way to make a proud statement for your next special event, family vacation, work outing, school program, sports team and more.
It doesn't stop at T-Shirts however. We print all types of apparel. From custom hats sunglasses, shorts, sweatshirts, scarves, etc. You name it and we'll customize any promotional product for you!
What sets us aside from other Screen Printers & Embroiderers is Signco can produce in only ONE WEEK! Most companies need 2-3 weeks, but we pride ourselves in great service without the wait.
Need it sooner? For orders needed within one business week, we can accommodate with a $25 rush charge.